Three Wolves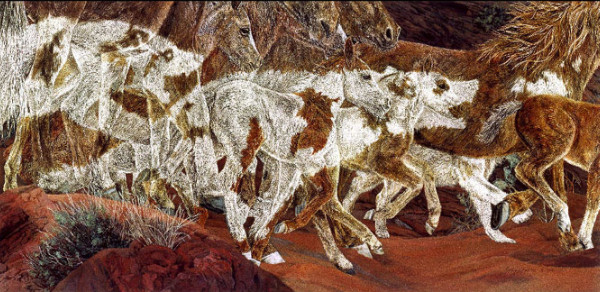 Once the most widely distributed land predator in the world, gray wolves originally flourished as far south as Mexico City. Cohabiting with them for centuries were Spanish mustangs, used both by conquistadors on gold expeditions and by Apache warriors on their fearsome raids.
By 1970, Mexican wolves had been hunted or trapped nearly to extinction in America's southwest. The five known remaining were captured in the hopes of saving this threatened species.
In 1989, a battered wild herd of 100 Spanish mustangs, a strain thought to have disappeared a century before, was discovered in an isolated pocket of Arizona's San Luis mountains. They, too, have become part of a captive-breeding program. Perhaps others still survive in the wild.
"Three Wolves" is a celebration of two species, wild, free, and pure, who once shared an unforgiving land.
| Edition Type | Edition Size | Edition Dim. | Edition Price | |
| --- | --- | --- | --- | --- |
| Artist's Proof Print | 325 | 29"w x 14"h | $305 | |