The Pursued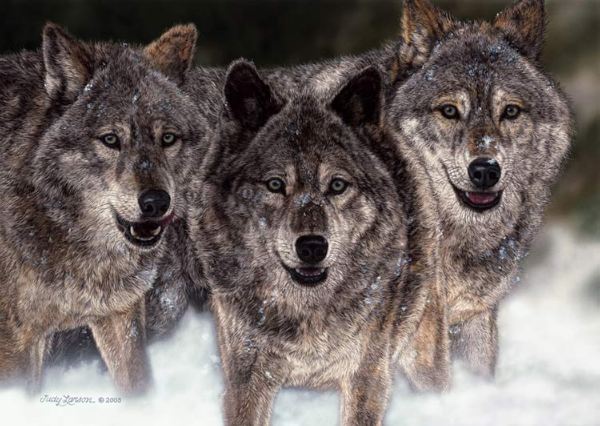 Full of mystery and power, the Indians of North America understood that the wolf was sacred. They called him "Brother," and knew in their souls that he was an integral part of the land. Even modern science tells us that the wolf, when present in an ecosystem, brings balance to the land and to its dwellers. Yet the wolf, by its very nature, incites passions for and against it.
Today, the gray wolf occupies only 2% of the land he once ranged. Regardless, in March of 2003, its status was changed from "endangered" to "threatened" everywhere but in the Southeast. Bounties still exist on wolves in some states and interest groups would like to see them in theirs, as well.
Judy has us encounter a pack of three wolves that has silently woven its way through a snow-covered forest. As they move towards us, a fourth brother joins them, a spectral ancestor and symbol of the wildness that this noble creature so embodies.
| Edition Type | Edition Size | Edition Dim. | Edition Price | |
| --- | --- | --- | --- | --- |
| Fine Art Print | 1000 | 23 ½"w x 16 ¾"h | $245 | |
| Artist's Proof Print | 150 | 23 ½"w x 16 ¾"h | $305 | |
| Fine Art Giclee Canvas | 200 | 26"w x 19"h | $650 | |