The Gift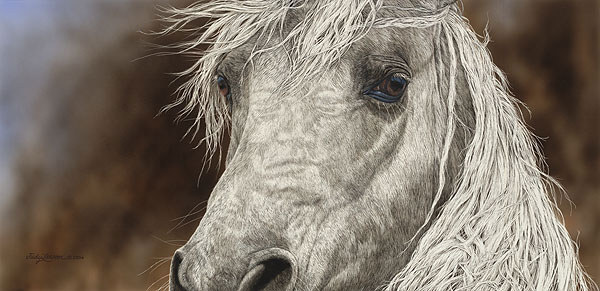 The second offering in The Noble Spirits series.
Loyalty is a passion, a belief, a gift bestowed only upon those who earn it. Few leaders fired the vehemence of loyalty greater than Tatanka-Iyotake, the Lakota Chief, Sitting Bull. To The People, loyalty was not only a characteristic of man, but also extended to the natural and animal world.
In his final years, Sitting Bull proudly rode Circus Horse, a gift from Wild West impresario Buffalo Bill. A magnificent animal, Circus Horse had been trained to act and to dance in the renowned traveling show. Sitting Bull, however, recognized in Circus Horse the fire of a truly noble spirit.
Then, in the late 1800s, the Ghost Dance emerged, a ceremony that promised to rid the land of white people and to restore the Indiansí way of life. The American government feared that Sitting Bull would join the movement and bring his followers with him. Forty-three Lakota policemen were sent to arrest him, and a battle quickly ensued. At the sound of gunfire, Circus Horse began the act he had been trained to do: a dance of pawing the ground, throwing his mane, and rearing into the air. To Sitting Bull's followers, it was far more. Circus Horseís great white body remained at Sitting Bullís side throughout the fierce battle and, after the revered Chief was fatally struck down, danced for hours more, until he was exhausted, in respect for the fallen man. It is said that Circus Horse was possessed with a spirit, for, throughout the entire battle, this imposing target was not struck by a single bullet. Discover the face of loyalty in Judy's The Gift.
| Edition Type | Edition Size | Edition Dim. | Edition Price | |
| --- | --- | --- | --- | --- |
| Fine Art Giclee Print | 1000 | 25"w x 12"h | $225 | |
| Artist's Proof Print | 150 | 25"w x 12"h | $295 | |
| Fine Art Giclee Canvas | 200 | 28"w x 13"h | $545 | |
| Artist's Proof Giclee Canvas | 25 | 28"w x 13"h | $750 | |