The Defiant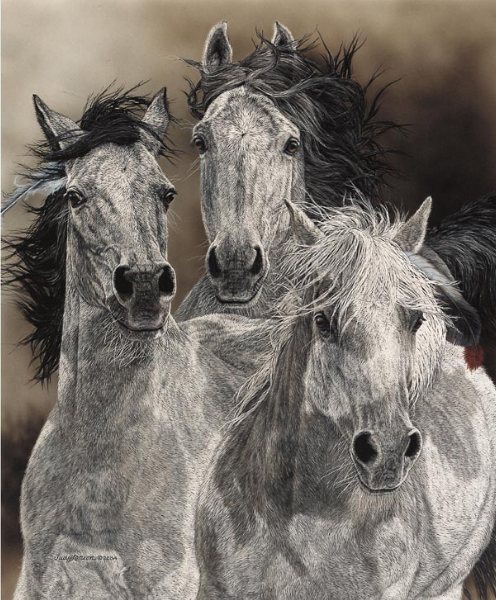 For more than 50 years after an inconceivable act in which U.S. Army Colonel George Wright ordered his troops to slaughter 800 Native American horses, the bleached bones of the doomed horses could still be seen along the bank of the Spokane River in Washington. Today, a monument marks the site that became known as Horse Slaughter Camp.
The year was 1858, and several companies of soldiers, both on foot and on horseback, under the leadership of Colonel Wright, were engaged in a punitive military expedition against the Native American tribes, Yakama, Spokane, Palouse and Coeur d'Alene. On the morning of September 8, Colonel Wright and his troops spotted a large cloud of dust, which revealed the position of 800 Palouse horses. Although a valiant effort was made by the tribes to drive their horses into the mountains, nevertheless, after a fierce skirmish, the majority of the herd was captured. Although it was a crime at this time on the frontier to kill a horse, it was Wright's job to subdue the tribes' powerful hold over their land and to demoralize them. It took "the better part of two days" to shoot, club and kill all the horses, and, as the Native Americans watched helplessly from the hills, they could not believe what they saw.
Following the slaughter, Colonel Wright and his troops continued on their way, burning lodges and storehouses, filled with the Native Americans' winter supply of oats, vegetables, camas roots and dried berries. That winter many of the old and very young died of starvation. Apparently, to Colonel Wright, however, the campaign was a success, as he reported to his superior, "The chastisement which these Indians have received has been severe but well merited and undoubtedly necessary to impress them with our power. For the last 80 miles our route has been marked by slaughter and destruction."
Judy's "The Defiant" portrays three of these Native American horses, rebelling at the senseless slaughter of their herd. These three are "The Defiant," as they show themselves and their Native American caretakers, that somehow, against all odds, they will survive as living testament to two horrific days in history.
| Edition Type | Edition Size | Edition Dim. | Edition Price | |
| --- | --- | --- | --- | --- |
| Fine Art Print | 1000 | 18"w x 21 ¾"h | $245 | |
| Artist's Proof Print | 150 | 18"w x 21 ¾"h | $305 | |
| Fine Art Giclee Canvas | 200 | 19"w x 23"h | $650 | |