The Buffalo Tipi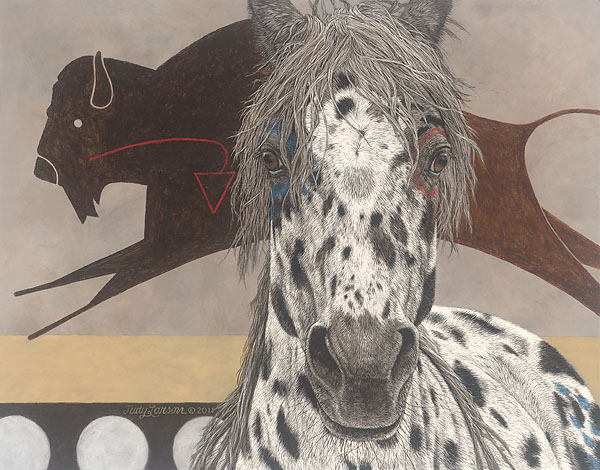 "It took extraordinary courage to ride at full gallop into a thundering herd of buffalo armed with only a bow and arrow," Judy Larson says with admiration. "Essential to that audacity was the Plains Indian's trust in his mount. Often, it was not his war horse he used on the hunt, but one trained to negotiate through the unpredictable tangle of the stampede without panic and cut a wounded buffalo from the herd. Any mistake could lead to sudden death.
"The Appaloosa was a horse often favored for the hunt. The symbols adorning a steed for the hunt were different from those chosen for war. A Sacred Buffalo or Buffalo Tracks represented thanks to the Great Spirit for success in past hunts. The Sun of Happiness was used to call for blue skies. Hunting during a rain storm was dangerous and considered unfair to the Great Spirit and to the buffalo. The Circle of Vision was painted around the horse's eye for sharp vision and to help locate distant buffalo on the horizon. On the tipi behind, one can also see yellow and black stripes which represented buffalo trails."
A hunter's wife would paint a symbol on the horse that represented her secret prayer to the Great Spirit for her husband on the hunt. If the man was not yet married, his mother would paint that symbol. If the hunt was successful, that symbol would most likely be used again. Judy's hidden spirit, a buffalo head, symbolizes her hope for this warrior's safe and victorious hunt.
The Buffalo Tipi is the fourth in Judy Larson's highly popular series that explores the ties between the legends and lifestyle of the Plains Indian. The others include The Elk Dog Tipi, The Horse Tipi and The Crow Tipi. This Limited Edition Fine Art Canvas may be gallery wrapped by your dealer for display as a contemporary work of art.
FREE GALLERY WRAP ON ARTIST'S PROOF GICLEE CANVASES THROUGH DECEMBER 31, 2011. ($30 value)
| Edition Type | Edition Size | Edition Dim. | Edition Price | |
| --- | --- | --- | --- | --- |
| Fine Art Giclee Canvas | 150 s/n, | 15"w x 12"h | $395 | |
| Artist's Proof Giclee Canvas | 25 s/n, | 15"w x 12"h | $545 | |