The Advertising Horse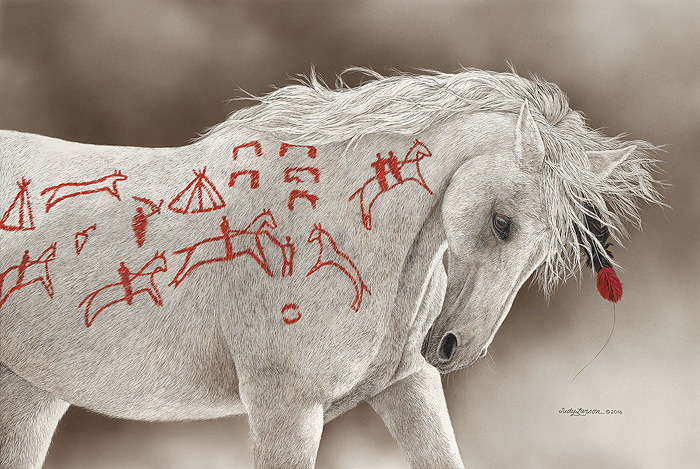 The victor of numerous battles, Morning Eagle, a revered and ancient Blackfoot warrior, proudly displayed his accomplishments by painting medicine symbols and picture writings on his old, white war horse. As he lead his devoted mount and companion through the village, Morning Eagle would shout out to his people to attract their attention to his "advertising horse." Deeds of valor and bravery from his earlier days were painted on the war horse's sides for all to see and to admire. Although Morning Eagle was a very old man, he rose early each morning, rain or shine, to sit outside his tipi to sing his songs. By then, he was almost blind and had lost the use of his legs, but, with an enduring love of excitement, he would beseech the young men to lift him upon his old horse so that he could ride with enthusiasm through the camp and participate in faux battles. When the Sun Dance Camp of 1909 was celebrated, Morning Eagle was there, albeit as a very, very old hero.
Judy has accurately depicted the decorations Morning Eagle personally painted on his old white war horse, referenced from a photograph taken of his painted horse over a hundred years old ago.
| Edition Type | Edition Size | Edition Dim. | Edition Price | |
| --- | --- | --- | --- | --- |
| Fine Art Giclee Canvas | 100 s/n | 27"w x 18"h | $495 | |
| Artist's Proof Giclee Canvas | 20 s/n | 27"w x 18"h | $695 | |