Red Horse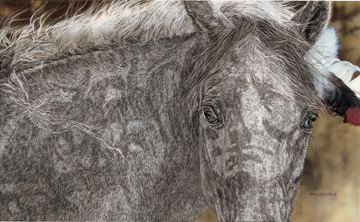 On June 25, 1876, Red Horse, a Minneconjou Lakota head chief, rode under Lamedeer into an unexpected fight with Lt. George Custer. In the ravines and on the ridges along the Little Bighorn River, Custer and his Gray Horse Troop met their fate.
Despite instructions to wait for reinforcements, Custer inexplicably divided up his command and proceeded to attack.
For uniformity of appearance, Custer had given each company of the 7th Calvary its own color horses. According to Indian accounts, the prominent gray horses of Company E were the easiest to follow in the confusion of battle.
When Custer and his men were surrounded, they released their remaining gray horses. Stampeding through the Indian lines, the horses were captured near the river.
Although no photographs exist of the famous battle, Red Horse's recollections of the battle do, rendered in brilliantly-colored drawings depicting all phases of the action.
Red Horse surrendered to General Crook's troops in 1877.
| Edition Type | Edition Size | Edition Dim. | Edition Price | |
| --- | --- | --- | --- | --- |
| Fine Art Print | 3250 | 24"w x 14 ¾"h | $245 | |
| Artist's Proof Print | 325 | 24"w x 14 ¾"h | $305 | |