Pryor Commitment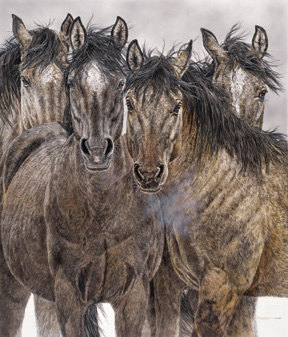 "Pryor Commitment" honors the wild mustangs of the Wyoming Pryor Mountain Range.
It is a poignant reminder of legal promises made and broken to protect and defend the wild mustangs against those who would do harm in the name of profit or expediency. Over half the land in 11 western states are public lands and yet the wild mustangs are shoved into the bitterest of landscapes and told to "survive if you can".
Judy brings to this stallion and his mares a sense of heroism, for they are the descendants of a determined and resilient species. What other animal has gained mankind so much and asked for so little in return?
Hidden in the image you will find the promises of the future in the form of two foals. Intelligent, beautiful, the wild mustang is not only a part of our national heritage, but a potent reminder of what it means to be free.
| Edition Type | Edition Size | Edition Dim. | Edition Price | |
| --- | --- | --- | --- | --- |
| Fine Art Print | 3250 s/n | 21 ½"w x 25 ¼"h | $245 | |
| Artist's Proof Print | 325 s/n | 21 ½"w x 25 ¼"h | $305 | |