Nine To Five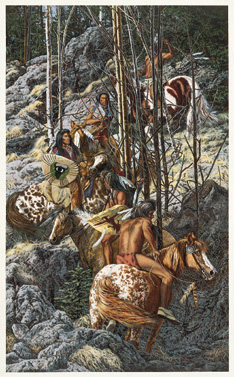 Five Indian ponies sense an inexplicable presence. As they make their way through the rocks and trees down the steep hillside, their uneasiness is conveyed to their riders. Warily, the party pauses.
By happenstance, these five Native Americans have chanced upon a place so filled with the spirit of the wolf that even the rocks and trees attest to its power.
After today, the five riders' medicine will be stronger and more powerful, having been blessed by nine natural benefactors.
| Edition Type | Edition Size | Edition Dim. | Edition Price | |
| --- | --- | --- | --- | --- |
| Artist's Proof Print | 250 | 16 1/8"w x 26 ¾"h | $295 | |