He Dog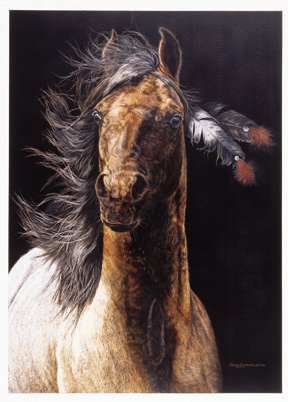 He Dog. Childhood friend of Crazy Horse, witness to his murder.
Born in the same year, in the same season, He Dog and Crazy Horse grew up together in the same Ogala band, played together, courted girls together, fought together. Distinguishing themselves in both war and peace, they were made chiefs, "shirt weavers", and hence bearers of the Crow Owner's Society. He Dog, at age 92 in 1930, gave his personal account of the killing of Crazy Horse by a soldier at Fort Robinson in 1877. He Dog was at his side, a friend to the last.
The magnificent stallion featured in "He Dog" pays homage not only to the "sacred dog", the horse, of the Plains Indians, but also to the noble life of a great Dakota.
| Edition Type | Edition Size | Edition Dim. | Edition Price | |
| --- | --- | --- | --- | --- |
| Fine Art Print | 3250 | 18 ½"w x 25 ¾"h | $245 | |
| Artist's Proof Print | 325 | 18 ½"w x 25 ¾"h | $305 | |