Fire And Flight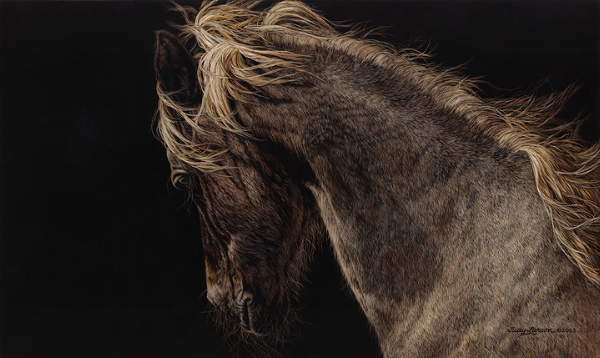 To live in harmony with the forces of nature is the essence of being wild. The untamed mustang embodies unbound freedom, honed by the raucous ebb and flow of Mother Nature. Instincts, unfettered by the influence of man and acquired over millennia, guide, like guardian spirits, the horse's coexistence with the elements.
This mustang, bathed amber by the light of an encroaching prairie fire, makes for safety, just beyond the edges of the temporary destruction. Soon, renewal will spring from the ashes. But, there is something more to these wild spirits.
One day, as a red-tailed hawk passed before the sun as it soared high in the sky, it appeared to Judy that the sunlight burned like orange firelight through the hawk's tail feathers. As Judy conceived this image, it seemed only natural that just such a spirit would accompany this mustang, to guide it beyond the reach of the fire's passing danger.
| Edition Type | Edition Size | Edition Dim. | Edition Price | |
| --- | --- | --- | --- | --- |
| Fine Art Print | 1000 | 25"w x 15"h | $245 | |
| Artist's Proof Print | 150 | 25"w x 15"h | $305 | |
| Fine Art Giclee Canvas | Limited t 250 | 27"w x 16"h | $650 | |