EBENEZER AND THE WAR HORSE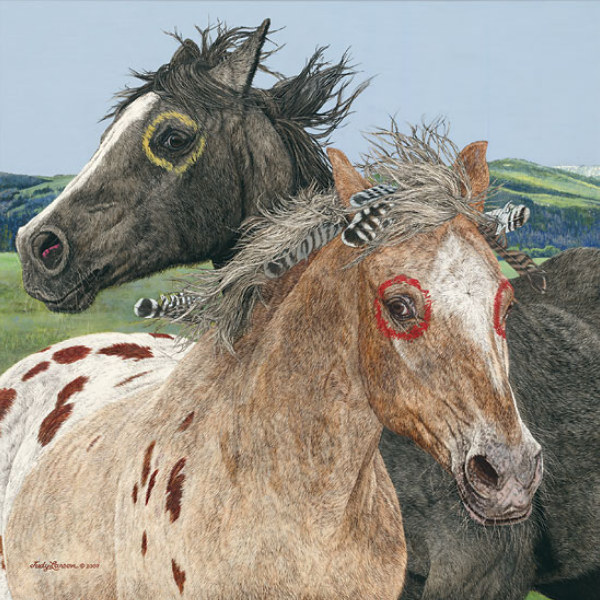 Out of the millions of horses that have shared our country's history, only a few have distinguished themselves enough for their names to be remembered. Among these select few is Ebenezer, Chief Joseph's renowned Appaloosa racehorse. Light red roan in color, with large blood-red spots on his white rump, he was not the prettiest horse in the herd, but he could run like the wind. So famous was he that newspapers in Walla Walla and Lewiston, Washington recorded each time Chief Joseph rode him into town. Anyone with a good, fast horse of his own, whether frontiersman or Native American, dreamed of the day when his horse would beat Chief Joseph's Ebenezer. But, alas! Ebenezer won all his races well out in front of the best horses in the region.
The black horse portrayed in "Ebenezer and the War Horse" honors another of Chief Joseph's horses. Although his name has not survived through time, he was special, as well, for he was the horse that Chief Joseph chose to ride to surrender.
| Edition Type | Edition Size | Edition Dim. | Edition Price | |
| --- | --- | --- | --- | --- |
| Fine Art Print | 550 | 21"w x 21"h | $225 | |
| Artist's Proof Print | 150 | 21"w x 21"h | $295 | |
| Fine Art Giclee Canvas | 200 | 24"w x 24"h | $695 | |
| Artist's Proof Giclee Canvas | 30 | 24"w x 24"h | $895 | |